USPS Color Requirements for Curbside Mailboxes: What You Should Know
Monday May 20, 2019
When purchasing curbside mailboxes for a neighborhood or residential community, you'll need to choose an appropriate color. The United States Postal Service (USPS) is pretty flexible regarding the color of curbside mailboxes, but there are still a few things you'll need to know. By complying with the USPS's color requirements, you can avoid the headache of having to replace or repaint your mailboxes in the future.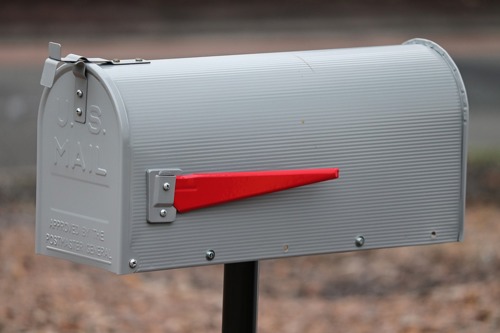 All Colors Are Supported
The USPS allows for the use of curbside mailboxes in any color. You can choose a traditional color like black, white or brown, or you can choose a more modern color like green, red or blue. There are currently no restrictions regarding the color of curbside mailboxes in the United States.
The Carrier Flag Cannot Be Green, Brown, Blue, Yellow or White
While the USPS doesn't require homeowners or property developers to use a specific color for their mailboxes, it does require the use of specific carrier flag colors. Under the USPS's requirements, the carrier flag on curbside mailboxes can be any color except green, brown, blue, yellow or white. Why can't you use a signal flag in one of these colors? They are typically the least visible when used with traditional curbside mailboxes, meaning mail couriers could fail to see a raised carrier flag if it's green, brown, blue, yellow or white.
Mailbox Color Must Contrast With Carrier Flag Color
You can choose any color for your curbside mailboxes, but it needs to contrast with the color of the carrier flag. In other words, you can't use a black mailbox with a dark gray or indigo carrier flag, nor can you use a red mailbox with a pink carrier flag. The color of your curbside mailboxes must contrast with their respective carrier flag. The purpose of using contrasting colors is to improve the visibility of the carrier flag. If features a similar shade or tone as the mailbox itself, mail couriers may not see it.
About Forsite:
Welcome to Forsite! You've found your best source custom street signs and community wayfinding signs. We manufacture and install upscale site amenities throughout the United States.
Forsite can provide all of your signage needs for your Master Planned Community or  Residential Development. We help our customers to create a uniform, upscale appearance and increase property values by "bundling" themed packages of decorative street signage, mailboxes, post and wall mounted lighting, and wayfinding signage
You can count on the experts at Forsite to help improve the quality of your community today. Contact us today to get started by talking to one of our experienced team members at 855-537-0200.