The Importance of Entrance Signs for Neighborhoods and Communities
Friday January 31, 2020
Entrance signs play an important role in the aesthetics, as well as function, of neighborhoods and residential communities. Also known as entrance signage, they are installed at the entrance where they provide essential information to residents and travelers alike. Unfortunately, some developers overlook the importance of entrance signs, resulting in a lackluster neighborhood or community. By using a high-quality entrance sign in your neighborhood or community, you'll reap the following benefits.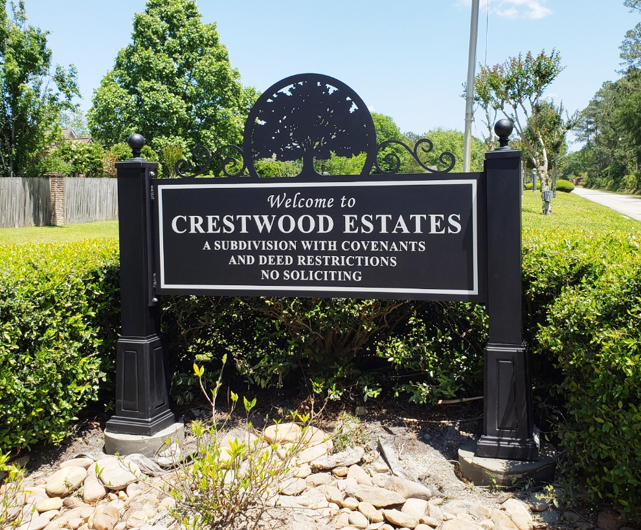 Lowers Risk of Collisions
An attractive entrance sign can lower the risk of vehicular collisions. Without an entrance sign, motorists who are unfamiliar with your neighborhood or community may struggle to find it. A motorist, for example, may stop his or her vehicle in the middle of the road to check their GPS, resulting in a rear-end collision. You can promote a safer neighborhood or community by installing an attractive entrance sign. When a motorist approaches the entrance sign, he or she will immediately recognize your neighborhood or community.
Improves Aesthetics
Of course, an entrance sign can also improve the aesthetics of your neighborhood or community. Entrance signs are available in a wide variety of materials, sizes, finishes and other customization options. Rather than choosing a generic entrance sign, you can choose a custom entrance sign that reflects your neighborhood's or community's style. Once installed, a high-quality entrance sign will create a more cohesive design that uplifts the aesthetics of your neighborhood or community.
Defines the Borders of Your Neighborhood or Community
An entrance sign will define the borders of your neighborhood or community. With an entrance sign, there's no confusion regarding where your neighborhood or community begins. Upon seeing the entrance sign, motorists will recognize it as being the border for your neighborhood or community.
Increases Property Value
You might be surprised to learn that a high-quality entrance sign can increase property values in your neighborhood or community. Research shows that homes in neighborhoods and communities with an attractive entrance sign typically sell for more money than those in neighborhoods and communities without an entrance sign.
Educates and Informs Motorists
An entrance sign can educate and inform motorists about your neighborhood or community. Some property developers include "No Soliciting" in their entrance sign to discourage door-to-door sales. Other property developers include the brief history of their neighborhood or community in their entrance sign. Regardless, you'll have complete control over the text, icons and other visual elements of your entrance sign.
About Forsite:
Welcome to Forsite! You've found your best source custom street signs and community wayfinding signs. We manufacture and install upscale site amenities throughout the United States.
Forsite can provide all of your signage needs for your Master Planned Community or  Residential Development. We help our customers to create a uniform, upscale appearance and increase property values by "bundling" themed packages of decorative street signage, mailboxes, post and wall mounted lighting, and wayfinding signage
You can count on the experts at Forsite to help improve the quality of your community today. Contact us today to get started by talking to one of our experienced team members at 855-537-0200.