How Do Cluster Box Units (CBUs) Work?
Monday September 16, 2019
Cluster Box Units (CBUs) have become an increasingly popular alternative to conventional curbside mailboxes. A form of centralized mail delivery, they consist of "clusters" of multiple mailbox compartments, each of which is intended for a specific household or residence in the surrounding area. Unless you're familiar with CBUs, though, you might be wondering how they work. In this post, we're going to reveal the basics of CBUs, revealing why they've become so popular in recent years.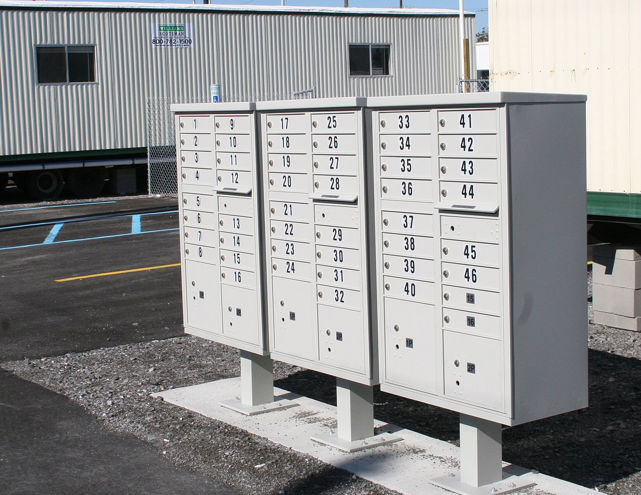 The Basics of CBUs
Also known as a Neighborhood Delivery Collection Box Unit (NDCBU), a CBU is a centralized mail delivery unit that contains multiple individually locked compartments for both incoming and outgoing mail. Conventional curbside mailboxes, of course, have a single compartment. For a neighborhood with 50 homes, 50 curbside mailboxes may be used. Alternatively, however, just a few CBUs could be used.
CBU Mail Delivery

A typical CBU contains eight to 16 individually locked compartments. Each of these compartments is designed for a single home's or resident's mail. According to the United States Postal Office (USPS), mail couriers are instructed to deliver mail to CBUs based on the compartment number alone. In other words, they ignore the recipient's name listed on the mail.
Because CBUs contain up to 16 individually locked compartments, CBUs allow mail couriers to deliver and pick up mail more quickly and efficiently. Rather than visiting each household's curbside mailbox, mail couriers can visit a single area in which one or more CBUs are placed. Because of this, the USPS has been pushing families and businesses alike to switch from curbside mailboxes to CBUs or other forms of centralized mail delivery.
Who Has the Keys for a CBU?
CBUs are either privately owned, or they are owned by the USPS. For privately owned CBUs, residents must pick up a key for their mail compartment from the respective landlord or property owner. For USPS-owned CBUs, on the other hand, mail couriers are responsible for providing residents with three keys. The USPS doesn't require a deposit for obtaining these key. Furthermore, residents can create additional keys free of charge by visiting a local USPS office.
CBU Parcel Lockers
It's important to note that many CBUs have parcel lockers in which large mail and packages are placed. If a package or piece of mail is too big is fit into a resident's CBU compartment, the mail courier will leave it in a parcel locker. A key will then be left in the resident's CBU compartment so that he or she can open the parcel locker and retrive the oversized mail.
About Forsite:
Welcome to Forsite! You've found your best source custom street signs and community wayfinding signs. We manufacture and install upscale site amenities throughout the United States.
Forsite can provide all of your signage needs for your Master Planned Community or  Residential Development. We help our customers to create a uniform, upscale appearance and increase property values by "bundling" themed packages of decorative street signage, mailboxes, post and wall mounted lighting, and wayfinding signage
You can count on the experts at Forsite to help improve the quality of your community today. Contact us today to get started by talking to one of our experienced team members at 855-537-0200.