What Do the Arrows on Guide Signs Mean?
Monday November 02, 2020
Guide signs are one of several types of traffic control devices recognized by the U.S. Federal Highway Transportation Authority (FHWA). They are found on conventional roads as well as freeways and expressways. Guide signs live up to their namesake by guiding motorists through the respective area. While there are dozens of types of guide signs, many of them display arrows. Some guide signs have arrows pointing up, whereas others have arrows pointing down or to the side. What do these arrows mean exactly?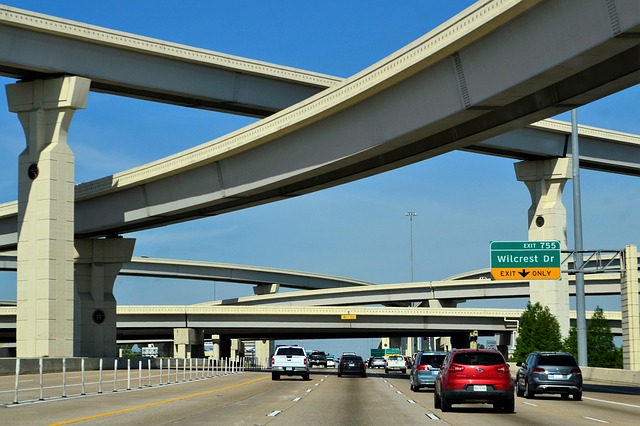 Up Arrow
A guide sign with an up arrow means the respective road is leaving the through lane. According to the Manual on Uniform Traffic Control Devices (MUTCD), up arrows on guide signs should be aligned with exit roadways. When motorists see a guide sign with an up arrow, they'll know that it guides them to a different road. The arrow starts at the bottom of the guide sign and points upwards towards an exit roadway.
Down Arrow
If a guide sign has a down arrow, it means motorists should use that lane to reach the road or destination denoted by the guide sign. As shown in the photo above, guide signs with a down arrow are used on freeways and expressways to denote exits. When a down arrow is used, the MUTCD states that it should be installed directly over the lane for which it denotes. The MUTCD also states that no guide sign shall contain more than a single down arrow. The down arrow simply means that a lane, such as an exit, should be followed.
Curved-Stem Side Arrow
You may discover that some guide signs have a curved-stem side arrow. In other words, they point to the right or left side with a curved arrow. Curved-stem side arrows such as this indicate a circular intersection with one or more turns. Circular intersections are different than traditional intersections. The roads curve at a curbed intersection, so a curved-stem side arrow is used to denote where motorists should turn. The MUTCD only allows guide signs with a curved-stem arrow to be used at curved intersections.
Straight-Stem Side Arrow
Some guide signs have a straight-stem side arrow. A straight-stem arrow is the same as a curved-stem arrow except it has a straight angle rather than a curved angle. Straight-stem arrows are used for general turning purposes. They indicate a road is perpendicular to the road with which they are used, and that motorists can enter the road by turning in the direction of the straight-stem side arrow.
About Forsite:
Welcome to Forsite! You've found your best source custom street signs and community wayfinding signs. We manufacture and install upscale site amenities throughout the United States.
Forsite can provide all of your signage needs for your Master Planned Community or  Residential Development. We help our customers to create a uniform, upscale appearance and increase property values by "bundling" themed packages of decorative street signage, mailboxes, post and wall mounted lighting, and wayfinding signage
You can count on the experts at Forsite to help improve the quality of your community today. Contact us today to get started by talking to one of our experienced team members at 855-537-0200.