What Are the Testing Requirements for Curbside Mailboxes?
Tuesday October 06, 2020
Since being founded in the early 1970s, the United States Postal Service (USPS) has worked to standardized mailboxes. There are certain rules manufacturers must follow when designing and producing curbside mailboxes, some of which involve testing. Testing is done to ensure that new curbside mailboxes are able to meet the USPS's quality standards. If a new curbside mailbox isn't tested -- or if it fails any of the required test -- the Postmaster General (PMG) won't approve it. What are the testing requirements for curbside mailboxes exactly?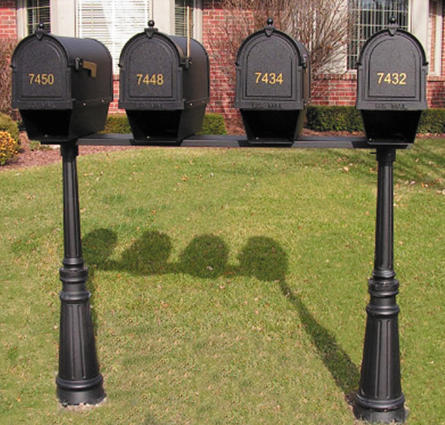 Minimum Capacity
All curbside mailboxes must be tested for minimum capacity. The minimum capacity test involves the insertion of a gauge that measures 18.5 inches long, 5 inches wide and 6 inches tall. During the test, the gauge is inserted into the curbside mailbox, after which the door is closed. Assuming the gauge fits, the curbside mailbox will pass the minimum capacity test.
Water Tightness
The USPS requires a water tightness test for curbside mailboxes as well. Unlike many forms of centralized mail delivery systems, curbside mailboxes are installed almost exclusively outdoors. Therefore, they are exposed to rain and humidity. The water tightness test is designed to measure a curbside mailbox's ability to withstand water. It involves spraying water onto each side of the curbside mailbox for a 15-minute period. At the end of the water tightness test, the door is opened and the contents of the curbside mailbox are checked for moisture.
Abrasion Resistance
The abrasion resistance, as the name suggests, is used to measure a curbside mailbox's ability to resistant abrasions. It involves blasting the sides of a curbside mailbox with pressurized sand. According to the USPS, curbside mailboxes must be able to withstand at least 75 liters of sand without succumbing to damage of the mailbox's plating material. It's important to note, however, that only metal curbside mailboxes are required to undergo the abrasion resistance test. Mailboxes made of plastic or other nonmetal materials don't have to meet the USPS's abrasion resistance standards.
Temperature Test
There's also the temperature test. During the temperature test, a curbside mailbox is exposed to both hot and cold temperatures. It's placed inside a chamber for 24 hours where the temperature drops to minus 65 degrees Fahrenheit. The curbside mailbox is then moved to a separate chamber where it's exposed to a temperature of 140 degrees Fahrenheit. Regardless of material, all curbside mailboxes must pass the temperature test to receive approval from the PMG.
About Forsite:
Welcome to Forsite! You've found your best source custom street signs and community wayfinding signs. We manufacture and install upscale site amenities throughout the United States.
Forsite can provide all of your signage needs for your Master Planned Community or  Residential Development. We help our customers to create a uniform, upscale appearance and increase property values by "bundling" themed packages of decorative street signage, mailboxes, post and wall mounted lighting, and wayfinding signage
You can count on the experts at Forsite to help improve the quality of your community today. Contact us today to get started by talking to one of our experienced team members at 855-537-0200.