How to Choose the Right Wayfinding Signage for Your Commercial Project
Monday March 16, 2020
Wayfinding signage isn't used exclusively in residential communities. You can find it used in commercial office and shopping centers as well. If you're in the midst of a commercial property development project, you should consider investing in wayfinding signage. Assuming you choose the right type, it will help to create a more cohesive brand image while also driving more foot traffic to the respective businesses in that area.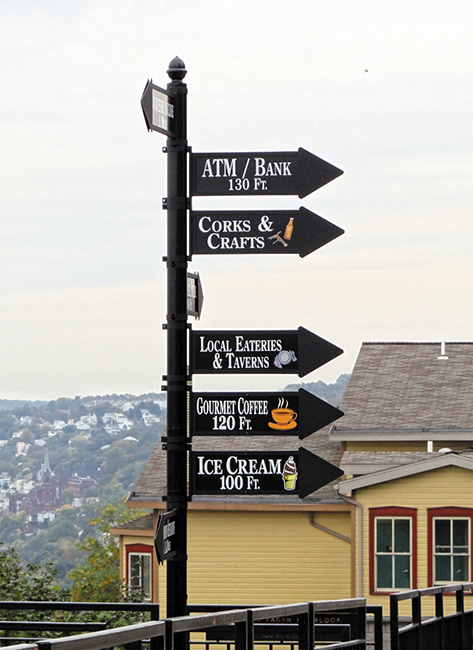 Choose a Uniform Color Scheme

It's recommended that you choose a uniform color scheme for the wayfinding signage in your commercial project. In other words, don't use signs in different, clashing colors or designs. The colors for your all signs should flow cohesively together. You don't have to necessarily choose signs all in the same color, but any colors used should flow together without clashing.
Include Icons or Logos
You can include icons or logos in your wayfinding signage to improve its aesthetics and functionality. As shown in the photo above, for example, a coffee cup icon can be used to denote the presence of a coffee shop, whereas an ice cream cone can be used to denote the presence of an ice cream shop. With icons or logos in the wayfinding signage, shoppers can easily find their destinations.
Use Navigational Wayfinding Signage
Navigational wayfinding signage is particularly useful for commercial projects because of its ability to assist shoppers, as well as other pedestrians, in finding the businesses for which they are looking. Navigation wayfinding signage lives up to its namesake by helping shoppers and pedestrians navigate your commercial shopping area. It typically consists of businesses' names with corresponding arrows pointing towards their location. Upon seeing the navigation wayfinding signage, shoppers will immediately know where the businesses are located.
Maintain Consistency With Street Signage
Assuming there's street signage in or around your commercial shopping center, you should choose wayfinding signage that matches it. If the street signage features a modern design, use a similar modern design for the wayfinding signage. Maintaining consistency between the wayfinding signage and street signage allows for a more cohesive landscape in your commercial shopping center.
Wayfinding signage can make a world of difference in the appearance and functionality of your commercial shopping center, but you need to choose the right type. Refer to these tips to ensure you get the right wayfinding signage for your commercial shopping center.
About Forsite:
Welcome to Forsite! You've found your best source custom street signs and community wayfinding signs. We manufacture and install upscale site amenities throughout the United States.
Forsite can provide all of your signage needs for your Master Planned Community or  Residential Development. We help our customers to create a uniform, upscale appearance and increase property values by "bundling" themed packages of decorative street signage, mailboxes, post and wall mounted lighting, and wayfinding signage
You can count on the experts at Forsite to help improve the quality of your community today. Contact us today to get started by talking to one of our experienced team members at 855-537-0200.