How to Choose the Right Message Boards for Your Residential Community
Tuesday August 04, 2020
Message boards can help you build a better community by providing residents with guidance and information. Homeowners' associations and property managers use them to share information with the residents of their respective community. As shown below, a message board consists of a freestanding flat structure in which bulletins, maps, memos and other essential information can be housed. Not all message boards are the same, however. To take advantage of them in your residential community, you'll need to choose the right message boards.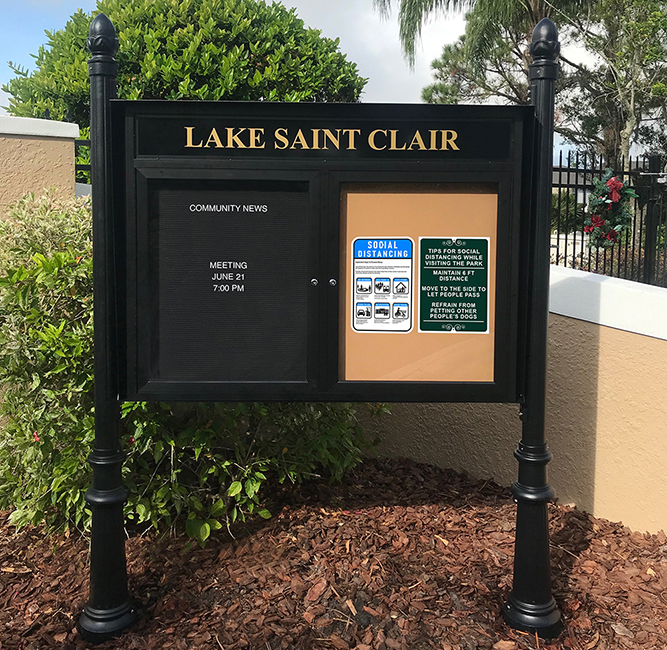 Weatherproof Construction
It's recommended that you choose message boards made of a weatherproof material. Message boards are installed outdoors, so they are naturally exposed to the elements. Over time, exposure to rain and humidity can degrade message boards if they are made of the wrong material. Fortunately, there are weatherproof message boards made of water- and moisture-resistant materials. Rust-free aluminum is an excellent choice of material. Rust-free aluminum is strong and durable, but unlike most other metals, it doesn't rust -- even when exposed to water and moisture.
Transparent Windows
Regardless of the material from which they are constructed, message boards should feature a transparent window. A transparent window is necessary so that residents can view and read the contained material. With that said, glass is typically a poor choice of material for message boards. While transparent, glass tends to crack when exposed to stress. A better choice of material is acrylic. Acrylic is just as transparent as glass, but it offers a superior level of protection against damage like cracking and shattering.
Locked Compartment
You should consider choosing message boards with a locked compartment. With a locked compartment, only the homeowner's association or property manager will be able to change the documents within the message boards. The compartment behind the message board's transparent window will be locked. To open it, the homeowner's association or property manager must use a key. Therefore, no one will be able to remove or tamper with the contents.
Consider the Size
Pay attention to the size when shopping for message boards to use in your residential community. The size of a message board will dictate the type of materials it can house. If you want to display a map, you'll need to choose a message board that's large enough to contain the map. Small message boards can also be difficult for residents to read, especially when placed far away from walking paths and trails.
About Forsite:
Welcome to Forsite! You've found your best source custom street signs and community wayfinding signs. We manufacture and install upscale site amenities throughout the United States.
Forsite can provide all of your signage needs for your Master Planned Community or  Residential Development. We help our customers to create a uniform, upscale appearance and increase property values by "bundling" themed packages of decorative street signage, mailboxes, post and wall mounted lighting, and wayfinding signage
You can count on the experts at Forsite to help improve the quality of your community today. Contact us today to get started by talking to one of our experienced team members at 855-537-0200.