How Parcel Lockers Work in Centralized Mail Delivery Systems
Tuesday May 05, 2020
Consisting of large wall-mounted or freestanding units with multiple individual mailbox compartments, centralized mail delivery systems have become increasingly popular in the United States. They allow mail couriers to drop off, as well as collect, at a single location. Since mail couriers don't go to door-to-door, though, centralized mail delivery systems require parcel lockers.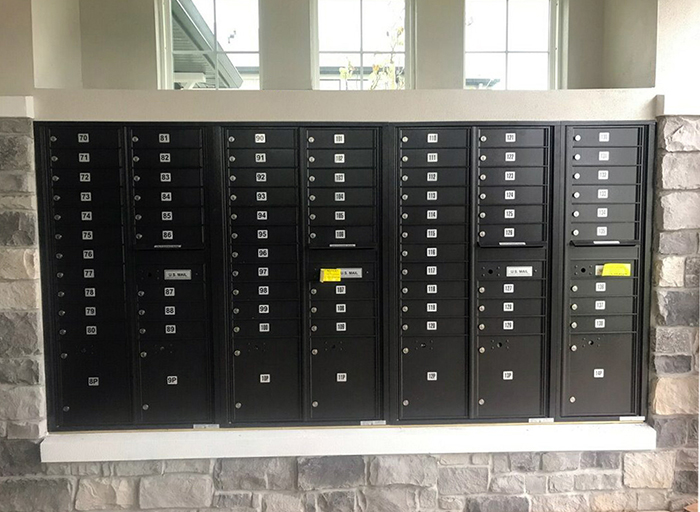 What Is a Parcel Locker?
A parcel locker is a separate mail compartment that's designed specifically for parcel and packages. Whether it's a Cluster Box Unit (CBU) or an STD-4C unit, all centralized mail delivery systems have many individual mail compartments. Because these individual mail compartments are relatively small, however, they don't accommodate parcel or packages. Mail couriers can deliver letters and other small mail to a tenant's mail compartment in a CBU or STD-4C unit, but they won't be able to deliver large parcel or packages, which is where a parcel locker comes into play.
Why Parcel Lockers Are Important
Parcel lockers allow tenants to receive parcel and packages. If a tenant has a curbside mailbox, the mail courier may simply deliver his or her package to the front door. With a centralized mail delivery system, the mail courier will leave the tenant's package inside a parcel locker where he or she can later retrieve it.
You might be wondering how tenants can access parcel lockers since they are placed in a communal area. Like the individual mail compartments, parcel lockers can be locked (hence the name). After dropping off a tenant's package in a parcel locker, the mail courier will leave a key to the locker in the tenant's individual mail compartment. The tenant can collect this key when checking his or her mail, after which the tenant can open the parcel locker to retrieve the package.
How Many Parcel Lockers Do STD-4C Units Need?
The United States Postal Service (USPS) requires STD-4C units to have one parcel locker per 10 individual mailbox compartments. If an STD-4C unit has 50 total mailbox compartments, for example, it must also have 10 parcel lockers. The USPS has determined that one parcel locker per 10 individual mailbox compartments is an appropriate ratio that allows mail couriers to efficiently deliver parcel and packages to tenants who use STD-4C units.
When compared to previous specifications, including STD-4B units, STD-4C introduces other enhancements to parcel lockers. The locking mechanisms, for instance, are stronger in STD-4C parcel lockers, and they are also designed farther away from finished compartment doors.
About Forsite:
Welcome to Forsite! You've found your best source custom street signs and community wayfinding signs. We manufacture and install upscale site amenities throughout the United States.
Forsite can provide all of your signage needs for your Master Planned Community or  Residential Development. We help our customers to create a uniform, upscale appearance and increase property values by "bundling" themed packages of decorative street signage, mailboxes, post and wall mounted lighting, and wayfinding signage
You can count on the experts at Forsite to help improve the quality of your community today. Contact us today to get started by talking to one of our experienced team members at 855-537-0200.