Copperfield HOA Mailbox Installation - Before and After
Monday December 21, 2020
Before and after photo of decorative curbside mailbox units for Copperfield HOA in Florida.
Forsite provided Copperfield HOA new Quad, Triple and Double mailbox units to help improve their community's curb appeal.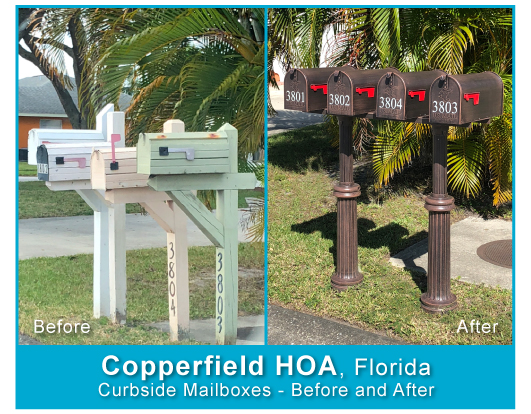 Forsite offers a wide selection of high quality, upscale aluminum mailboxes and posts that will enhance the curb appeal of your community. By replacing old and outdated mailboxes with a new decorative design will help revitalize a neighborhood.

A mailbox replacement project can be a great way to upgrade the overall appearance of a community and help build increased value.

There are many design choices and finish options available to accommodate any budget and make your project unique while fitting your specific needs.

Our knowledgeable staff and creative team will help design the perfect style that accommodates the needs of your community.