What Is Retroreflectivity in Traffic and Street Signs?
Tuesday February 12, 2019
Nighttime driving carries a higher risk of collision than daytime driving due to lack of sunlight. While most highways and roads are illuminated with street lamps, they don't provide the same level of lighting as the sun. Because of this, roughly half of all collisions occur at night, even though only 75% of travel happens during the day. To help reduce the risk of nighttime collisions, the Federal Highway Administration (FHWA) requires developers and contractors to use traffic and street signs with a minimum amount of retroreflectivity.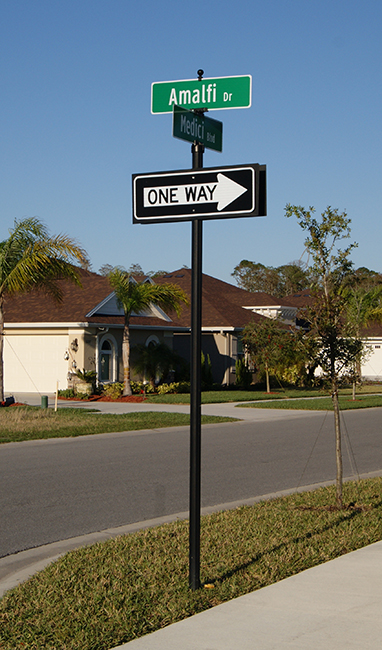 Retroreflectivity Explained

Retroreflectivity is defined as the reflection of light off a given surface. When a car's headlights strike a retroreflective-coated sign, the sign will bounce back some of that light to the car. This allows drivers to see signs more easily at night and, therefore, lowers the risk of collision. The FHWA has used reflective properties in road and street sign specifications for more than a half-century. It wasn't until the 1990s, however, when the organization updated its Manual on Uniform Traffic Control Devices (MUTCD) to require a specific level of retroreflectivity for road and street signs.
Types of Retroreflective Sheeting
As revealed on the official FHWA website, there are several types of retroreflective sheeting, including the following:
Type I: Also known as engineering grade, Type I retroreflective sheeting offers medium- to high retroreflectivity and is commonly used in highway signs and construction zone signs.
Type II: Also known as super engineering grade, Type II retroreflective sheeting consists of glass beads to further improve its light-bouncing properties.
Type III: A step up from the previous sheeting, Type III retroreflective sheeting offers a high level of retroreflectivity.
Type IV: Made of nonmetallic microprismatic material, Type IV retroreflective sheeting is also used in street sighs, construction zone signs and other traffic control devices.
Type VII: This type of retroreflective sheeting offers a high retroreflectivity at both medium and long distances.
Type VIII: Featuring a similar construction as Type II, Type VIII retroreflective sheeting offers super-high retroreflectivity for road and street signs at medium and long distances.
Type IX: Finally, Type IX retroreflective sheeting offers the highest level of retroreflectivity at short distances.
How to Maintain Retroreflectivity
It's important to note that a sign's retroreflectivity may decrease over time, which is why the FHWA requires communities to maintain a minimum level of retroreflectivity with their road and street signs. The FHWA supports several different testing methods to maintain the retroreflectivity of signs. Communities can either perform a nighttime visual inspection of their signs, measure precise retroreflectivity levels using a retroreflectometer, check their signs' expected life or simply replace their signs.
About Forsite:
Welcome to Forsite! You've found your best source custom street signs and community wayfinding signs. We manufacture and install upscale site amenities throughout the United States.
Forsite can provide all of your signage needs for your Master Planned Community or  Residential Development. We help our customers to create a uniform, upscale appearance and increase property values by "bundling" themed packages of decorative street signage, mailboxes, post and wall mounted lighting, and wayfinding signage
You can count on the experts at Forsite to help improve the quality of your community today. Contact us today to get started by talking to one of our experienced team members at 855-537-0200.