What Is a Mailbox Parcel Locker?
Friday November 29, 2019
With e-commerce sales at an all-time high, there's a growing need for mailbox parcel lockers. Conventional curbside mailboxes typically don't support large packages. If a homeowner or resident orders a package, the mail courier won't be able to deliver it. Instead, the mail courier may leave a note notifying the homeowner or resident that his or her package is located at the local post office. Thankfully, a parcel locker offers an easier and more convenient way for homeowners and residents to receive packages.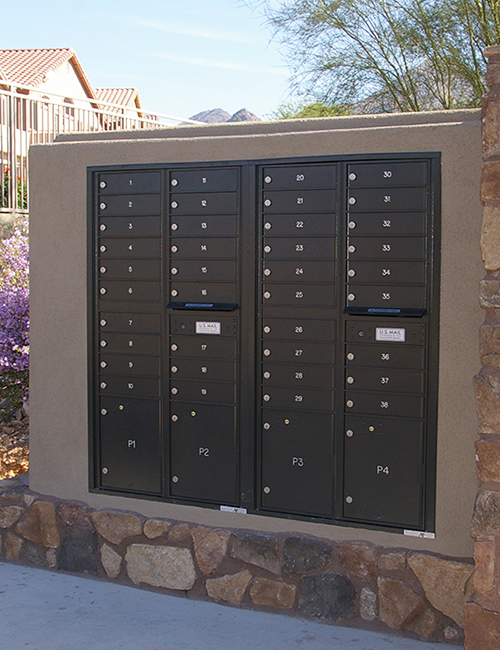 Overview of Mailbox Parcel Lockers
A mailbox parcel locker, as the name suggests, is a large compartment that serves as a drop-off for incoming packages and other forms of large mail. They are used in centralized mail delivery systems, such as Cluster Box Units (CBUs) and STD-4C mailboxes. If a homeowner or resident has a package, the mail courier will leave it in the parcel locker.
Like the individual mailbox compartments in centralized mail delivery systems, all parcel lockers feature a locked design. Homeowners and residents, however, typically don't have a key for the parcel lockers The mail courier only provides homeowners and residents with a parcel locker key if they have a package. When a homeowner or resident has a package, the mail courier will leave the package in a parcel locker and place the corresponding key in the homeowner's or resident's mailbox compartment. After retrieving the package, the homeowner or resident will leave the key behind for the mail courier to pick up.
How Many Parcel Lockers Do Centralized Mail Delivery Systems Use?
The number of parcel lockers used in centralized mail delivery systems varies. STD-4C mailboxes -- the USPS-approved standard that replaced earlier standards like 4B and 4B+ -- are required to have one parcel locker per 10 individual mailbox compartments. If an STD-4C mailbox has 30 individual mailbox compartments, for example, it must have three parcel lockers. The USPS has determined that a ratio of 1:10 offers an appropriate number of parcel lockers.
CBUs are also required to have parcel lockers. With that said, the USPS doesn't require them to have a specific number of parcel lockers. Some CBUs have two parcel lockers, whereas others have four parcel lockers. It's important to note that many CBUs, as well as some STD-4C mailboxes, are used in conjunction with individual outdoor parcel lockers (OPL) to provide an even greater number of parcel lockers.
About Forsite:
Welcome to Forsite! You've found your best source custom street signs and community wayfinding signs. We manufacture and install upscale site amenities throughout the United States.
Forsite can provide all of your signage needs for your Master Planned Community or  Residential Development. We help our customers to create a uniform, upscale appearance and increase property values by "bundling" themed packages of decorative street signage, mailboxes, post and wall mounted lighting, and wayfinding signage
You can count on the experts at Forsite to help improve the quality of your community today. Contact us today to get started by talking to one of our experienced team members at 855-537-0200.