What Are the MUTCD Requirements for Community Wayfinding Signage?
Monday April 01, 2019
If you're planning to include wayfinding signage in your community, you may need to comply with the Manual on Uniform Traffic Control Devices (MUTCD). Developed by the Federal Highway Administration (FHWA), the MUTCD contains rules that property and community developers must follow when using signs and other traffic control instruments on roads and streets with a medium or high volume of traffic. If you community is located on any non-low-volume road or street, as specified here, you must comply with the MUTCD's requirements when using wayfinding signage.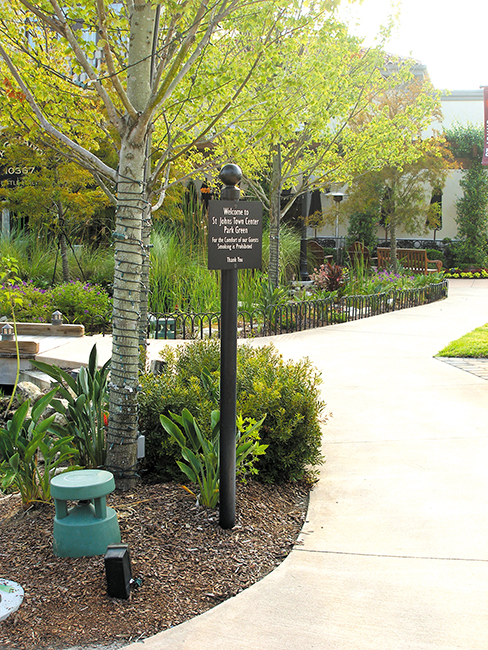 Install on Conventional Roads Only
The MUTCD allows the use of the wayfinding signage only on conventional roads. You cannot use them on freeways or expressways. With that said, you can use a destination sign on a freeway or expressway ramp to guide motorists to your community .
Mounted Overhead
In addition to being used only on conventional roads, the MUTCD states that all community wayfinding signage should be mounted overhead. Of course, wayfinding signage is easier to read when mounted overhead rather than low to the ground. If you install it too low, motorists will be forced to look dawn, which could divert their attention away from the road.
Separate Pedestrian and Motorist Wayfinding Signage
It's not uncommon for communities to contain wayfinding signage for both pedestrians as well as motorists. If you're going to use both types of wayfinding signage in your community, though, you'll need to separate them. The MUTCD notes that pedestrian wayfinding signage typically contains smaller text and legends than motorist wayfinding signage. As a result, placing pedestrian wayfinding signage in an area where motorists can easily see it increases the risk of traffic accidents. Motorists will struggle to read the small text and legends of pedestrian wayfinding signage, distracting them from the road and increasing the risk of collision. To reduce the risk of traffic accidents and comply with the MUTCD, place pedestrian wayfinding signage in an area where it's visible to motorists.
Don't Use Standard Traffic Sign Colors
Avoid using wayfinding signage designed with the same background color found in common traffic signs. If it uses the same color, motorists may mistake it for a traffic sign, which is why the MUTCD prohibits it. Instead, choose a different color for the background of your wayfinding community.
Some of the off-limit background colors for community wayfinding signage includes:
Red
Yellow
Purple
Fluorescent yellow-green
Fluorescent pink
About Forsite:
Welcome to Forsite! You've found your best source custom street signs and community wayfinding signs. We manufacture and install upscale site amenities throughout the United States.
Forsite can provide all of your signage needs for your Master Planned Community or  Residential Development. We help our customers to create a uniform, upscale appearance and increase property values by "bundling" themed packages of decorative street signage, mailboxes, post and wall mounted lighting, and wayfinding signage
You can count on the experts at Forsite to help improve the quality of your community today. Contact us today to get started by talking to one of our experienced team members at 855-537-0200.