The Rise of Cluster Mailbox Units in US Neighborhoods
Thursday January 17, 2019
Cluster mailbox units (CBUs) have been around for more than half-century, with the United States Postal Service (USPS) releasing the first official curbside CBU in 1967. Since then, they've become the preferred mail delivery system for apartments and condo complexes. A typical apartment complex has about 100 to 300 units. Rather than designating a curbside mailbox for each of these units -- or requiring couriers to hand-deliver each tenant's mail to his or her unit -- just a few CBUs can be used. While CBUs will likely remain the leading mail delivery system for apartments, they are also becoming more popular in neighborhoods.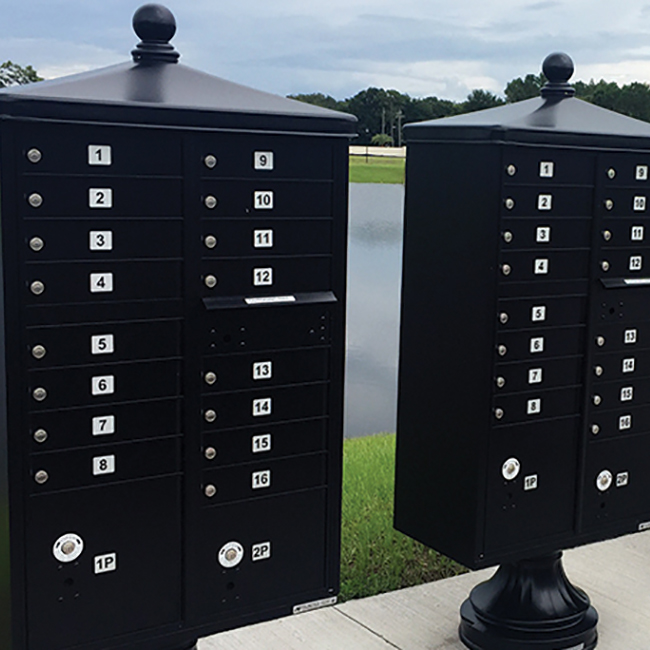 Prevents Mail Theft
One reason that CBUs are becoming more and more common in U.S. neighborhoods is because they reduce the risk of stolen mail. This centralized mail delivery system requires the use of a key to access to mail. Therefore, only the homeowner or tenant can access his or her mail in a CBU. Identity theft often begins with the theft of a victim's mail, which a criminal uses to gain personal information on the victim, such as his or her full name, date of birth, occupation and Social Security number. CBUs protect homeowners and tenants from identity theft and other related criminal activities by providing a safe and secure environment for their mail.
Saves Space
Many property developers prefer to use CBUs in their neighborhoods rather than conventional mailboxes because it saves space; and in many cases is a less expensive option. Developers can create a designated area at the front of the community in which the CBUs can be installed. Once set up, all nearby residents and tenants can visit this communal area to check their mail.
Easier to Install
Of course, it's also easier to install just a few CBUs for an entire neighborhood rather than dozens or hundreds of curbside mailboxes. There are pedestal and wall-mounted CBUs. The former is affixed to a free-standing pole, whereas the latter is mounted inside a wall. Either way, both types of CBUs are easy for developers to install.
Some Municipalities Require Them
You might be surprised to learn that some cities and counties in the United States require the use of CBUs in neighborhoods. These municipalities require developers to use CBUs, and if a developer doesn't, the municipality could take action. Developers should always check with their respective municipality before purchasing new mailboxes. Otherwise, they could be forced to take them and replace them with the municipality's required type of mailbox.
About Forsite:
Welcome to Forsite! You've found your best source custom curbside mailboxes and cluster mailboxes. We manufacture and install upscale site amenities throughout the United States.
Forsite can provide you with everything for your Master Planned Community or  Residential Development. You can create a uniform, upscale appearance and increase property values by "bundling" Forsite's integrated package of fashionable and durable mailboxes, post and wall mounted lighting, street (way) signs monument and entry signage as well as the desired amenities such as Bollards, Benches, Litter Receptacles and Bike Racks.
You can count on the experts at Forsite to help improve the quality of your community today. Contact us today to get started by talking to one of our experienced team members at 855-537-0200.