How to Choose Outdoor Lighting for Your Community or Commercial Property
Friday March 08, 2019
Outdoor lighting is used to illuminate and enhance the aesthetics of residential communities as well as commercial properties. Typically consisting of a weather-resistant pole affixed with one or more light fixtures, outdoor lighting illuminates the surrounding space when the sun goes down. Not only does this help people see when traveling through the area; it also creates a safer environment by deterring criminal activity. With so many types of outdoor lighting, however, how do you know which one is right for your community or commercial property?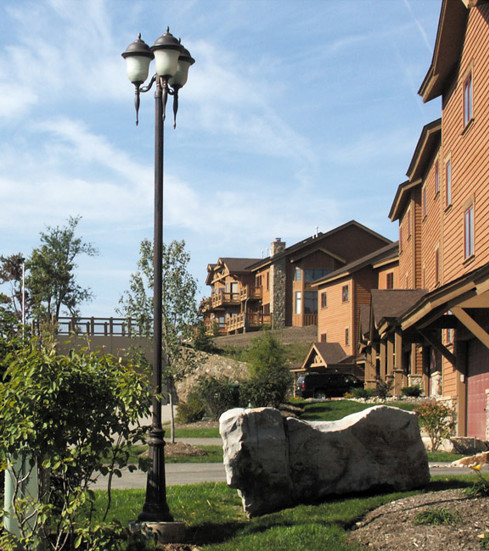 Bulb Type
Different types of outdoor lighting support different types of bulbs. Incandescent is one of the most common types of bulbs used in outdoor lighting. Incandescent bulbs are inexpensive, easy to find and safe for the environment. Light-emitting diode (LED) is another common type of bulb used in outdoor lighting. While LED bulbs cost more than incandescent bulbs, they consume less energy and last longer. Therefore, LED outdoor lighting may save property managers money in the long run.
Pole Design
Choose an outdoor lighting solution with a pole design that matches the rest of your community or commercial property. If the surrounding area is designed and decorated with neutral tones, for example you should use outdoor lighting with a neutral-colored pole to match. If your community or commercial property features bright colors, on the other hand, choose a similar bright color for your outdoor lighting pole.
Pole Height
In addition to its design, consider the height of the pole used in the outdoor lighting solution. The taller your outdoor lighting, the more space it will cover. However, taller poles generally cost more than shorter poles, and you'll also find that they are more laborious to install. Choose a pole height that's appropriate for the area in which the outdoor lighting will be used.
Globe
The globe is the protective housing in which the bulb is contained. Like other elements of outdoor lighting, globes are available in a variety of styles. Acorn globes, for example, live up to their namesake by featuring the shape of an acorn. It's a simple yet attractive design that works well for most communities and commercial properties.
Base
There are different bases available for outdoor lighting. Of course, the base is the expanded structure at the bottom of the pole. Some bases are designed in a cone-like shape that becomes wider towards the bottom, whereas others are designed as a flat square- or rectangular-shaped plate.
About Forsite:
Welcome to Forsite! You've found your best source outdoor community lighting and site amenities. We manufacture and install upscale site amenities for upscale communities throughout the United States.
Forsite can provide all of your lighting and signage needs for your Master Planned Community or  Residential Development. We help our customers to create a uniform, upscale appearance and increase property values by "bundling" themed packages of decorative street signage, mailboxes, post and wall mounted lighting, and wayfinding signage
You can count on the experts at Forsite to help improve the quality of your community today. Contact us today to get started by talking to one of our experienced team members at 855-537-0200.