5 Things to Consider When Choosing Entrance Signage for a Residential Community
Monday July 22, 2019
Whether you're developing a new residential community or seeking a fresh look an existing residential community, it's important to choose the right entrance and wayfinding signage. When residents enter the community, the first thing they'll see is the entrance signage. By choosing the right entrance signage, you'll create a positive and lasting first impression that enhances the aesthetics of your residential community. So, what type of entrance signage should you choose?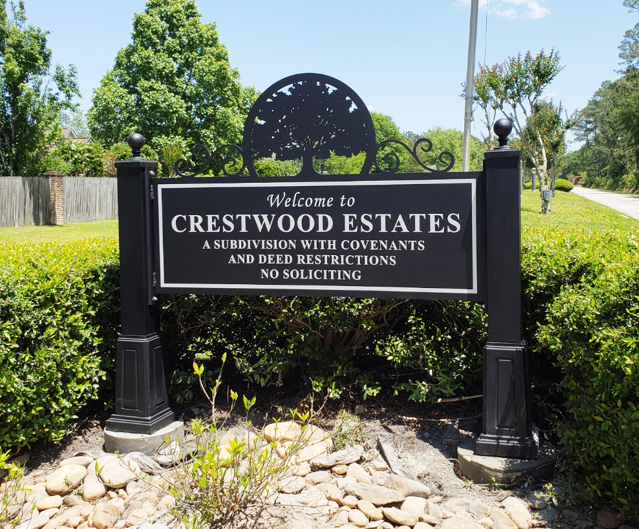 #1) Shape
Entrance signage is available in a variety of shapes. Here at Forsite, you can choose from over a dozen of shapes; or even work with our design team on a fully custom sign design. While the shape of entrance signage may sound insignificant, it plays a key role in their overall appearance. A good rule of thumb is to choose entrance signage that compliments or has a similar shape as other decorative signage used in the residential community.
#2) Color
In addition to the shape, consider the color of entrance signage and whether it matches the rest of the residential community's aesthetics. If the color of your entrance signage doesn't match the rest of the community, it will look awkward and unattractive. Therefore, you should stick with a similar color. Of course, you don't have to limit yourself to using entrance signage in a single color. You can include two or more colors in your residential community's entrance signage.
#3) Logo
To further customize the appearance of your entrance signage, you may want to include a logo of the respective residential community on it. Without a logo, it won't reinforce the community's brand. You can order community signage with a custom logo on it, however, here at Forsite.
#4) Material
Different entrance signage systems are made of different materials. Since it's used outdoors, you should choose entrance signage made of a durable, weather-resistant material like aluminum. Failure to do so may result in the signage rusting, corroding or otherwise succumbing to the effects of Mother Nature.
#5) Reflective or Non-Reflective
Entrance signage is available in both reflective and non-reflective styles. Not surprisingly, reflective styles are more visible at nighttime because they reflect headlights. When drivers approach a reflective entrance sign at night, they'll see it more easily, which could reduce the risk of accidents.
Don't just choose the first entrance signage system you come across for your residential community. Take the time to choose the right signage system. By considering these five things, you'll be able to choose the perfect entrance signage for your residential community.
About Forsite:
Welcome to Forsite! You've found your best source custom street signs and community wayfinding signs. We manufacture and install upscale site amenities throughout the United States.
Forsite can provide all of your signage needs for your Master Planned Community or  Residential Development. We help our customers to create a uniform, upscale appearance and increase property values by "bundling" themed packages of decorative street signage, mailboxes, post and wall mounted lighting, and wayfinding signage
You can count on the experts at Forsite to help improve the quality of your community today. Contact us today to get started by talking to one of our experienced team members at 855-537-0200.