What Is a Cast Aluminum Mailbox? And Why Should Choose It?
Tuesday December 11, 2018
The material from which a mailbox is made will affect its strength, weight, longevity and overall performance. While mailboxes are available in a variety of materials, aluminum is one of the most common. Aluminum is strong, lightweight, ductile and magnetic. But not all aluminum mailboxes are made of sheets of aluminum. Some are made of cast aluminum. So, what is a cast aluminum exactly? And why should you choose it over a different type of mailbox?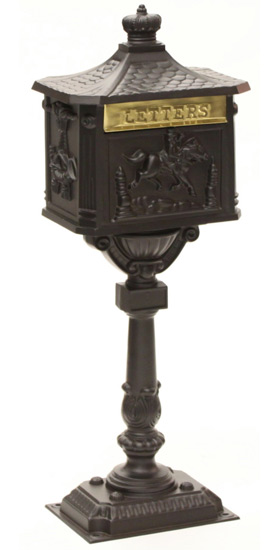 Overview of Cast Aluminum Mailboxes

A cast aluminum mailbox is a type of mailbox that's made either entirely or primarily of a single piece of molten aluminum. Like most metals, aluminum turns from solid to liquid when heated. When exposed to temperatures of 1,220 degrees or higher, aluminum liquefies. To make a cast aluminum mailbox, molten, liquefied aluminum is carefully poured into pre-cut molds in the shape of a mailbox. As the liquefied aluminum cools, it turns into a solid mailbox-shaped mass that can be removed and used as a mailbox. Most cast aluminum mailboxes, however, are coated with a finish to improve the appearance and protect against corrosion before they are sold and used.
In comparison, other types of aluminum mailboxes are made of extruded aluminum. Extruded aluminum isn't heated or liquefied like cast aluminum. Rather, it's produced by sending solid aluminum through an extrusion machine that cuts into various shapes. These frames are then formed and welded together to create a mailbox.
Benefits of Cast Aluminum Mailboxes
There are several reasons to consider a cast aluminum mailbox, one of which is strength. Its solid, single-piece design allows it to withstand stress and pressure without cracking or otherwise sustaining damage. Aluminum isn't quite as strong as steel, though cast aluminum certainly comes close.
Cast aluminum mailboxes offer a modern, stylish design that most people find attractive. Its sleek design makes it the perfect addition to any community or landscape. And like other types of mailboxes, cast aluminum mailboxes are available in a variety of coated finishes, mounts, posts, post toppers and other more.
Cast aluminum mailboxes are also lightweight. Aluminum is about 250% less dense than steel, so it naturally weighs less as well. This means cast aluminum mailboxes are easy to install and won't stress the post or foundation to which they are attached.
About Forsite:
Welcome to Forsite! You've found your best source custom curbside mailboxes and cluster mailboxes. We manufacture and install upscale site amenities throughout the United States.
Forsite can provide you with everything for your Master Planned Community or  Residential Development. You can create a uniform, upscale appearance and increase property values by "bundling" Forsite's integrated package of fashionable and durable mailboxes, post and wall mounted lighting, street (way) signs monument and entry signage as well as the desired amenities such as Bollards, Benches, Litter Receptacles and Bike Racks.
You can count on the experts at Forsite to help improve the quality of your community today. Contact us today to get started by talking to one of our experienced team members at 855-537-0200.