Mailbox Refurbishment: How to Revitalize Your Curbside Mailbox
Wednesday November 28, 2018
If the exterior of your community's curbside mailboxes are showing signs of chipping or flaking off, perhaps it's time to consider a mailbox refurbishment project. Over-time, especially in Florida,  elements like sun, and in coastal areas the salt exposure, will start to deteriorate the finish on your mailbox systems. Replacing your old, worn mailbox is always an option, but there are alternatives to get a few more years of use out of your mailbox systems that can provide a "like new" appearance.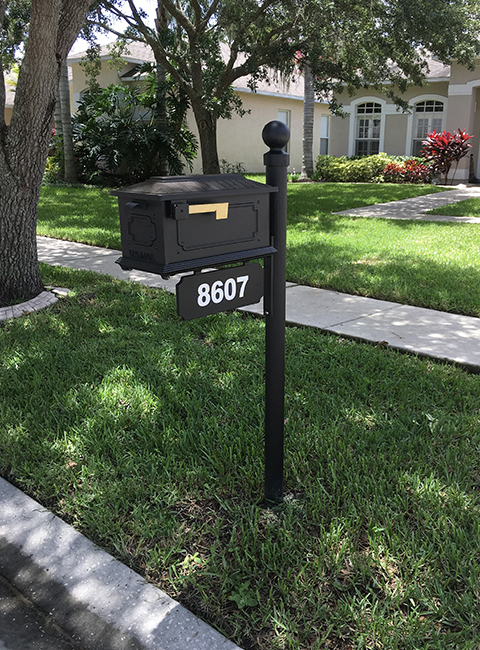 Check Installation and Any Broken Components
Before refurbishing your mailboxes, make sure to check that they are not leaning and don't have any broken mounting brackets, bases, or pole toppers. If you find that some of the mailbox systems have started to lean, then you should remove the systems and footers and re-install with a few concrete footer. It is also common for mailbox systems to have broken brackets, missing latch mechanisms, and decorative bases that are misaligned. You'll want to get these basic issues resolved before moving forward with the next steps. 
Clean Them Thoroughly
With your mailbox systems installed correctly, you can now clean the exterior surface. You'll want to use a power drill with a wire brush to remove any loose or flaking finish or vinyl numbers. You don't need to remove all of the existing paint, but just enough to create a smooth, clean surface to apply the new coat on. After you've remove any loose debris, just mix some liquid soap in a bucket of warm water, scrub the exterior surface of your mailbox system.
Use Primer and an Oil-Based Paint
You shouldn't use just any paint to refurbish your mailboxes. You should spray a coat of primer on the mailbox system first, and then apply with an oil-based paint to achieve the best possible look. Oil-based paints offer a stronger, deeper color to enhance the appearance of your aluminum mailbox systems. The only downside is that oil-based paints take longer to dry, sometimes up to 24 hours. In comparison, acrylic paints typically dry in less than an hour. Also, be careful to limit overspray when applying the primer and paint. 
Don't Forget the Address Numbers
Once you newly applied paint has dried, it is time to put the finishing touches on your mailbox systems. You can apply new vinyl address numbers, or for a high-end look, you could go with brass or stainless steel address numbers. 
About Forsite:
Welcome to Forsite! You've found your best source custom street signs and community wayfinding signs. We manufacture and install upscale site amenities throughout the United States.
Forsite can provide all of your signage needs for your Master Planned Community or Residential Development. We help our customers to create a uniform, upscale appearance and increase property values by "bundling" themed packages of decorative street signage, mailboxes, post and wall mounted lighting, and wayfinding signage
You can count on the experts at Forsite to help improve the quality of your community today. Contact us today to get started by talking to one of our experienced team members at 855-537-0200.