How to Protect Your Community's Curbside Mailboxes From Snow Plows
Friday December 14, 2018
Snowplows are commonly used throughout the United States to clear snow from public roads. During winter, heavy snowfall can create treacherous driving conditions for motorists. As snow accumulates on the road, drivers are more likely to hydroplane due to the lack of friction between their tires and the asphalt. Furthermore, some of the snow may melt during the day and freeze into ice at night, adding another hazard to winter driving. To reduce the risk of accidents, municipalities often use crews of snowplows to clear snow from roads. While effective at clearing roads, however, snowplows often leave curbside mailboxes buried in snow. So, what can you do to protect your community's curbside mailboxes from snowplows this winter?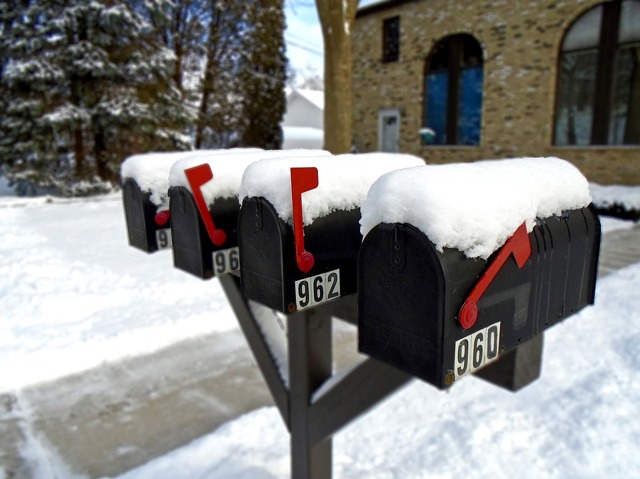 Avoid Wooden Posts

When choosing curbside mailboxes for your community, pay attention to the material from which the posts are made. Wooden posts are more likely to sustain damage from snowplows than those made of aluminum or other metals. A snowplow can leave a wooden post buried several feet deep in snow. And as the snow melts, some of the moisture will seep into the wooden post, encouraging it to rot and decay. You can protect your curbside mailboxes from such damage by choosing posts made of aluminum or other metals.
Install 8 Inches Away from Curb
The United States Postal Service (USPS) requires U.S. residents to install their mailboxes 6 to 8 inches away from the curb. Rather than opting for 6 inches, install your mailboxes exactly 8 inches from the curb to protect it from snowplows. The farther your mailboxes are from the curb, the less likely they are to get blanketed in snow. If snowplows are a problem in your community, you can even contact your local USPS office for permission to install it farther than 8 inches from the curb.
Use Reflective Markers or Address Numbers
Installing reflective markers or address numbers on your curbside mailboxes will allow snowplow drivers to see them more easily. As such, drivers can use caution to avoid hitting your mailboxes with snow. Just a few yellow- or red-reflective markers will make your community's mailboxes stand out, thereby protecting them from passing snowplows during the winter.
Clear Snow Around Mailboxes
Try to maintain a 3-foot clearance around your mailboxes that's free of snow. Using a snow shovel, scoop and remove any snow around the perimeter of your mailboxes. A passing snowplow may still send some snow shooting onto your mailboxes. As long as you maintain a 3-foot clearance, though, it shouldn't be a a significant amount. Of course, this means that you or the property resident must manually shovel the snow on a regular basis. If you're willing to put forth the time and work, however, this is an effective way to protect your community's mailboxes from snowplows.
About Forsite:
Welcome to Forsite! You've found your best source custom street signs and community wayfinding signs. We manufacture and install upscale site amenities throughout the United States.
Forsite can provide all of your signage needs for your Master Planned Community or  Residential Development. We help our customers to create a uniform, upscale appearance and increase property values by "bundling" themed packages of decorative street signage, mailboxes, post and wall mounted lighting, and wayfinding signage
You can count on the experts at Forsite to help improve the quality of your community today. Contact us today to get started by talking to one of our experienced team members at 855-537-0200.