How to Choose the Right Street Signs for Your Community
Friday January 04, 2019
Street signs play an important role in the function and aesthetics of a residential community. They help to reinforce the community's brand, reduce traffic accidents, guide motorists to their intended destination and even increase property values. Whether you're a property manager, developer or member of a homeowners association, though, you'll need to choose the right street signs for your community.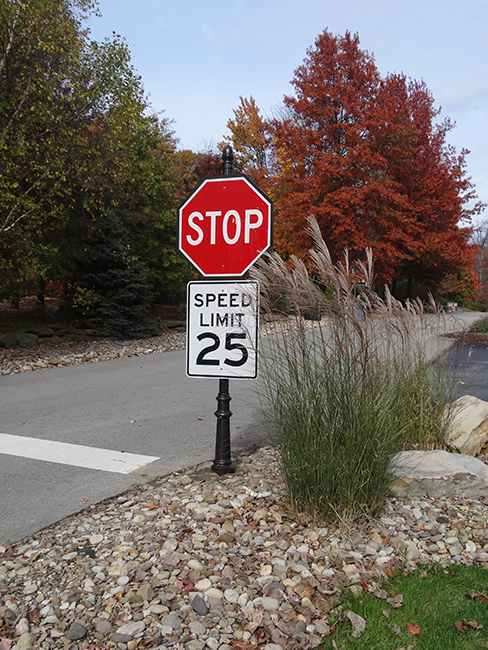 Ensure MUTCD Compliance
It's important that your street signs are compliant with the Manual on Uniform Traffic Control Devices (MUTCD). Originally published by the Federal Highway Administration (FHWA) in 1971 -- and updated dozens of time since -- the MUTCD contains standards regarding the installation and use of street signs and other traffic control devices. The purpose of the MUTCD is to ensure that traffic control devices offer the highest level of road safety possible. To achieve this, it requires street signs to be installed at specific heights, mounted on a breakaway pole and more.
Durable, Long-Lasting Materials
The materials from which a street sign is made will affect its longevity. Wooden signs, for example, have a shorter lifespan than aluminum street signs. Because of their inexpensive materials, many developers assume that wooden or PVC signs are the most cost-effective solution for their community. They end up spending more in the long run, however, when they are forced to repair or replace them with new signs. To avoid this headache and get the most value for your money, choose street signs made of durable, long-lasting materials, such as cast or extruded aluminum.
Local Municipality Compliance
In addition to the MUTCD, you may also be required to comply with your local municipality's guidelines when installing and using street signs in your community. Many U.S. cities have their own requirements for street signs. For example, you may find that your city requires you to use street signs with a minimum amount of reflectivity or specific size. If you don't follow these guidelines, your city may force you take them down.
Uniform Style That Reflects Your Community's Brand
Finally, choose street signs in a style that reflects your community's brand. All communities have a brand -- it's the identifiable colors, layout, perception and values that differentiates them from other communities. Rather than choosing an eclectic array of signs in a variety of styles, stick with a single, uniform style throughout your community. This will help you create a stronger and more recognizable brand for your community.
About Forsite:
Welcome to Forsite! You've found your best source custom street signs and community wayfinding signs. We manufacture and install upscale site amenities throughout the United States.
Forsite can provide all of your signage needs for your Master Planned Community or  Residential Development. We help our customers to create a uniform, upscale appearance and increase property values by "bundling" themed packages of decorative street signage, mailboxes, post and wall mounted lighting, and wayfinding signage
You can count on the experts at Forsite to help improve the quality of your community today. Contact us today to get started by talking to one of our experienced team members at 855-537-0200.