5 Things to Consider When Choosing a Cluster Mailbox Unit
Friday December 07, 2018
The advent of cluster mailbox units (CBUs) has revolutionized the way in which we send and receive mail. No longer are mail couriers forced to visit each and every unit at apartment complexes, condominiums and residential communities. They can now visit a single, centralized mail unit. Known as a CBU, the United States Postal Service (USPS) prefers them over curbside mailboxes because they are easier to manage. But if you're planning to invest in a CBU for a residential community or property that you manage, you should consider the five following things.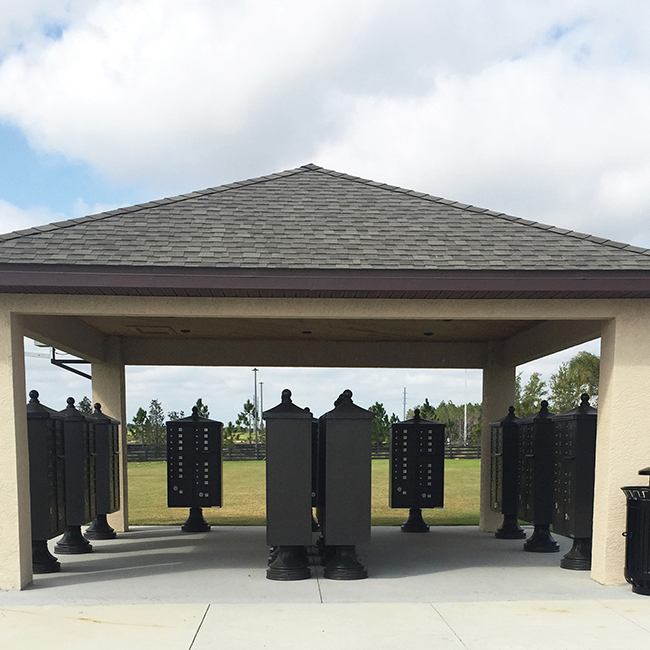 #1) Method of Mounting

How is the CBU mounted or installed? The USPS STD-4C supports wall-mounted centralized mailbox units. Technically, however, these aren't true CBUs. Actual CBUs, as specified by the USPS, are mounted on free-standing pedestals. Multiple CBUs can be arranged in groups or "clusters" to accommodate your needs, like these recent CBU examples. If you're managing a large community, you can group three or more CBUs together by installing the free-standing pedestals in the ground next to each other.
#2) Color
CBUs are available in several different colors. Black is a popular all-around choice because it fits with most settings. But if you're managing a community with a green finish on the wayfinding signage, you may want to use a similar green on the CBU. Maintaining cohesion between your community's signage and CBUs will help you achieve a more attractive curb theme throughout. Of course, CBUs are available in other colors besides black and green, some of which include brown, white, beige and gray. 
#3) Material

Aluminum is the most common material used to make CBUs (as well as curbside mailboxes). It's lightweight, inexpensive and doesn't rust. Aluminum CBUs can still develop corrosion, but they won't rust because they don't contain iron. There are also some specialty products available that are made of stainless steel. It's obviously heavier than aluminum, but it also costs a lot more; and is rarely used unless there is a specialty unique requirement. 
#4) Door Sizes
You should also consider door sizes when choosing a CBU for your residential community. Most CBUs have doors for tenants or residents as well as doors for mail couriers. A typical CBU may have 3-inch-tall doors for tenants and residents and a 10- to 14-inch-tall door for couriers.
#5) Locking Mechanism
What type of locking mechanism does the CBU use? Being that CBUs are used by multiple tenants or residents, it's important that you choose a CBU with a strong, secure locking mechanism. A cam lock is simple yet secure choice. Most USPS-approved CBUs are designed with cam locks on the doors, with each door having three keys that can open it. There are new technologies coming to market that can even allow a resident to control there box by there smart phone. 
About Forsite:
Welcome to Forsite! You've found your best source custom curbside mailboxes and cluster mailboxes. We manufacture and install upscale site amenities throughout the United States.
Forsite can provide you with everything for your Master Planned Community or  Residential Development. You can create a uniform, upscale appearance and increase property values by "bundling" Forsite's integrated package of fashionable and durable mailboxes, post and wall mounted lighting, street (way) signs monument and entry signage as well as the desired amenities such as Bollards, Benches, Litter Receptacles and Bike Racks.
You can count on the experts at Forsite to help improve the quality of your community today. Contact us today to get started by talking to one of our experienced team members at 855-537-0200.