The Complete Guide to Multi-Unit Mailboxes
Friday January 21, 2022
Curbside mailboxes are available in different styles You can find them in traditional and contemporary styles, for instance. Traditional curbside mailboxes are characterized by a rectangular-dome shape, whereas contemporary curbside mailboxes feature an alternative shape. There are also multi-unit mailboxes. Most multi-unit mailboxes are considered traditional, meaning they feature a rectangular-dome shape, but they consist of multiple mailboxes on a single post.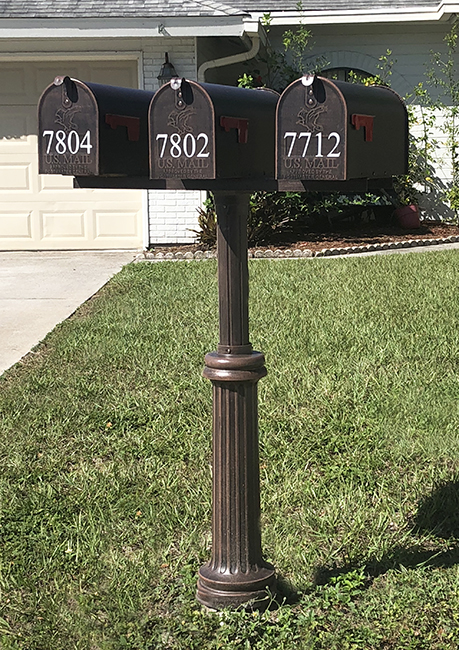 Overview of Multi-Unit Mailboxes 
Multi-unit mailboxes are mail delivery systems that, as the name suggests, consists of multiple mailbox units. Some of them have two mailbox units, whereas others have four or even six mailbox units. Regardless, all multi-unit mailboxes consist of multiple mailbox units on a single post. At the top of the post is a flat base. The mailbox units are aligned horizontally to each other and mounted on this base.
When to Use Multi-Unit Mailboxes
There are several instances in which multi-unit mailboxes can prove beneficial. If you're developing a residential community that contains townhouses, for instance, you may want to use them instead of standard curbside mailboxes. A townhouse is a house that's split into two or more living spaces. They are often split right down the middle. Rather than installing multiple mailboxes for a townhouse, you can install a single multi-unit mailbox.
You may want to use multi-unit mailboxes for houses that are built close together. Even if they aren't necessarily townhouses, they may benefit from the use of multi-unit mailboxes. A multi-unit mailbox will allow mail couriers to service the houses more easily, and when compared to using standard mailboxes, it will conserve space.
Multi-unit mailboxes are convenient. You'll have an easier time installing and maintaining them when compared to standard mailboxes. Just remember to choose multi-unit mailboxes with an appropriate number of units for each property you are developing.
Don't Forget the House Numbers
When installing multi-unit mailboxes, don't forget to add house numbers. Each mailbox unit denotes an address. When mail couriers deliver mail to a multi-unit mailbox, they'll look for house numbers on it. Failure to include house numbers on a multi-unit mailbox will prevent mail couriers from servicing it.
You can use any color for the house numbers. The United States Postal Service (USPS) recommends house numbers in a contrasting color. For a black multi-unit mailbox, for instance, you may want to use red or orange house numbers. Just remember to make sure the house numbers are at least 1 inch tall.
About Forsite:
Welcome to Forsite! You've found your best source for custom street signs and community wayfinding signs. We manufacture and install upscale site amenities throughout the United States.
Forsite can provide all of your signage needs for your Master Planned Community or  Residential Development. We help our customers to create a uniform, upscale appearance and increase property values by "bundling" themed packages of decorative street signage, mailboxes, post and wall mounted lighting, and wayfinding signage
You can count on the experts at Forsite to help improve the quality of your community today. Contact us today to get started by talking to one of our experienced team members at 855-537-0200.